CO2-Incubators

Laboratory - CO2-Incubators
CO2 small - Incubators with CO2-Infrared sensor. Developed especially for IVF- and Cell laboratories. This Incubator has been designed with just the right dimensions to be considered personal. The microprocessor - control guaranties precise, reproducible environmental condition's. Due to the advanced air circulation, this incubator offers a temperature accuracy specification of 0,1°C, CO2 is regulated via infrared control. Alarm messages guarantee total security in the event that the temperature or CO2 concentration exceed their preset limits or in case of Pressure drop inside the gas bottle.
CO2 - and temperature calibration per software adjustable
Temperature range 5°C above room temperature up to 45°C.
CO2 - concentration 0 to 10 Vol. %.
Interior parts can be dismantled
Gas isolated double glass door with magnetic seals
Easiness of interior cleaning
Self diagnostic capabilities
Compact dimensions make it transportable & easy to place
Options
Alarm contact floating output (potential free)
Designs
TECO 10 - CO2 small-Incubator for personal use - 16 l internal volume - stainless steel casing
Integrated UV-lamp for sterilisation in the air circulation - void of ozone
Options:
Dimensions (WxDxH): 334 x 345 x 440 mm
Order no.: 600.034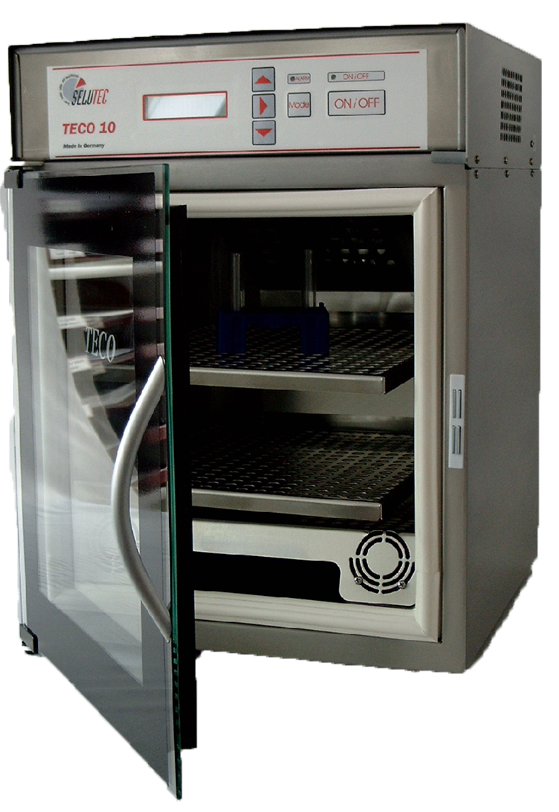 TECO 20 E - CO2 small-Incubator - 20 l internal volume - Chemicals resistant coated exterior white
TECO 20 E - CO2 small-Incubator
with additional point of RS 232 Interface
PC-cable for RS 232 9-poles
incl. Windows Software WIN TE 1.0
Analyzing system for supervising and controlling of temperature and CO2 value
Dimensions (WxDxH): 340 x 335 x 525 mm
Order no.: 600.005